Six-figure ad buy will reach Floridians on streaming platforms and social media
In the wake of the Florida House of Representatives passing a 15-week abortion ban in the dead of night, a new Planned Parenthood Action Fund advertising campaign tells Gov. Ron DeSantis and his Florida Senate allies: "STOP ATTACKING OUR RIGHTS." The $100,000 advertising buy will reach more than 200,000 Floridians, including districts represented by anti abortion leaders. Just last year, the legislature failed to enact a 20-week abortion ban. Now, they are a Senate vote away from sending the strictest abortion law in state history to the governor's desk.
The ad campaign reminds viewers that Florida's abortion ban is the latest salvo in a national strategy to eliminate abortion access. In the same week that the Florida ban passed the House, 15-week bans passed their first legislative chambers in Arizona and West Virginia. Legislators in many other states — including Alabama, Ohio, Nebraska, and Tennessee —  continue to push bans on abortion, emboldened by the idea that the Supreme Court may be poised to overturn Roe v. Wade. As of March 1, Texans will have lived under the most restrictive abortion law in the country for half a year — six months with virtually no access to abortion in their state. Legislatures in Oklahoma and Idaho are moving bans that would do the same in their states. Florida could be the next state to deprive millions of people access to abortion — in violation of the state's own constitution.
Sarah Standiford, Planned Parenthood Action Fund national campaign director, says of the advertising campaign,
"Floridians should decide what happens to their bodies, their lives, and their futures — not politicians. What we're seeing in Florida demonstrates legislators' complete disregard for individual liberty and the will of their constitutents, who support abortion access and do not want abortion banned in their state. Throughout the legislative session, student activists have been silenced and even were kicked out of the H.B. 5 floor vote by Capitol police. With this advertisement, Planned Parenthood Action Fund is reminding Gov. DeSantis, his allies, and anti-abortion rights legislators in Florida and around the country that we are watching them — and we will hold them accountable for attacking our rights."
Florida's proposed ban, H.B. 5, would prohibit abortion after 15 weeks of pregnancy — with virtually no exceptions, even for rape or incest. It directly contradicts nearly 50 years of Supreme Court precedent and the state constitution's privacy clause, which for decades has offered strong protection for abortion. Throughout the 2022 legislative session, proponents of the ban have disregarded pleas from abortion patients, providers, and advocates to consider the devastating effects of the ban on Floridians and their families. More than 600 health care providers submitted a letter to the legislature in February, citing the devastating effects that it will have on their patients.
By this summer, the U.S. Supreme Court could dismantle Roe v. Wade by upholding a similar Mississippi ban in Dobbs v. Jackson Women's Health Organization, or overturn Roe altogether. Millions of people would lose access to abortion not just in Florida, but across the Southeast and Midwest. Floridians already contend with a number of barriers to abortion, including limited or nonexistent insurance coverage, especially for people insured through Medicaid; lengthy travel from rural areas; and a parental consent law that delays care for young people. A 15-week ban will push abortion access further out of reach for these people and others, forcing patients to travel even greater distances and, for some, blocking access to abortion entirely.
The advertisements will run until the legislative session ends. This advertising campaign follows a series of digital ads sponsored by Florida Alliance of Planned Parenthood Affiliates highlighting health care providers' opposition to the ban.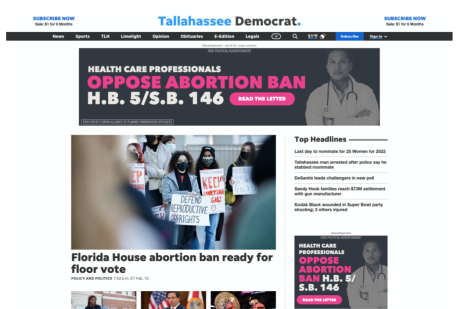 The Florida Alliance of Planned Parenthood Affiliates is the nonpartisan advocacy and political organization representing Florida's two Planned Parenthood affiliates. The Alliance engages in educational and electoral activity, including legislative advocacy, voter education, and grassroots organizing to promote the Planned Parenthood mission.