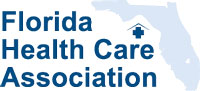 The Florida Health Care Association (FHCA) today thanked the Florida Legislature for passing HB 1239, which will modernize nursing center staffing so residents can receive more of the specialized care they need. The legislation would allow the work of highly-trained specialists to be added to the activities of other long term facility staff in meeting staffing standards.
The staffing shortage in long term care facilities has been unprecedented and devastating – with roughly 92% of nursing centers reporting shortages in 2021. Through that massive shortage, nurses and Certified Nursing Assistants have endured significant physical and mental health challenges, underscoring the critical need for  long term care facilities to utilize more specialized help.
"We are so thankful to the Senator Ben Albritton and the Florida Senate, along with Representative Lauren Melo and her colleagues in the House, for recognizing the urgent need for this critical legislation, which will help ensure that Florida's nursing center residents can receive the best quality care possible," said FHCA CEO Emmett Reed. "We know Governor DeSantis understands this need, and we strongly encourage him to make this issue a priority by signing this legislation."
HB 1239 remedies long term care facilities' staffing problems by allowing the work of such caregivers as mental health counselors and physical therapists to help satisfy staffing requirements. By easing the staffing shortage, this legislation creates a more resident-centered environment in long term care facilities, so residents can receive the individualized care they need from highly-trained professionals.
ABOUT THE FLORIDA HEALTH CARE ASSOCIATION
The Florida Health Care Association (FHCA) is a federation that serves nearly 1,000 members and represents more than 500 long-term care facilities that provide skilled nursing, post-acute and subacute care, short-term rehab, assisted living, and other services to the elderly and individuals with disabilities in Florida. The mission of FHCA is to advance the quality of services, image, professional development, and financial stability of its members. As Florida's first and largest advocacy organization for long-term care providers and the elderly they serve, the Association has worked diligently since 1954 to assist its members with continuously improving quality of care and quality of life for the state's growing elder care population. For more information about the Florida Health Care Association, visit http://www.fhca.org.