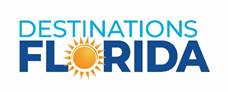 Destinations Florida and leaders from Florida's tourism industry commend the Florida Legislature, Senate President Wilton Simpson, Speaker of the House Chris Sprowls, and bill sponsors Senator Ed Hooper and Representative Linda Chaney for passing legislation that reauthorizes Visit Florida and extends the sunset date for the organization to 2028. This will ensure the stable, long-term continuity of operation of the organization so it can succeed at its mission of bringing visitors to Florida.
The statewide tourism promotion efforts of Visit Florida, in combination with the local tourism promotion efforts of Destination Marketing Organizations, have been critical to welcoming visitors back to Florida and helping the state's tourism industry rebound from the COVID-19 pandemic. Between April and June of 2021, Florida welcomed 31.7 million total visitors, an increase of more than 220 percent from 2020, with domestic visitation 6 percent higher than pre-pandemic levels in 2019.
In addition to creating jobs and generating tax revenue for the state and local communities, visitors also provide significant benefits to residents. Local tax revenue generated by visitors pays for critical services such as education, public safety and infrastructure. Revenue generated by tourism saves every Florida household more than $1,500 in taxes each year and is part of the reason why Florida has no state income tax.
Visit Florida and local tourism promotion organizations are critical to maintaining these benefits and keeping Florida's tax base low.
Here's what they're saying:
Kerri Post, Executive Director, Visit Tallahassee/Leon County Division of Tourism and Chairman, Destinations Florida Board of Directors
"Our industry has been tested over the last few years and we applaud the Florida Legislature for recognizing the impact and value that Visit Florida brings to our state. This announcement, combined with robust visitation data, allows for increased stabilization as we focus on the future of travel."
David Whitaker, President and CEO, Greater Miami Convention & Visitors Bureau
"We are delighted and incredibly appreciative of the leadership and vision of the Florida Legislature and our Governor for reauthorizing vital funding and support of Visit Florida. Florida has one of the most recognizable and appealing vacation brands in the nation and globally.  While each of us focus on our individual value proposition and messaging, it is Visit Florida that captures and amplifies all of Florida's experiences, especially the smaller and sometimes less known treasures throughout our State. Strong brands fundamentally require consistency and Visit Florida provides that essential link."
Santiago C. Corrada, President and CEO, Visit Tampa Bay
"As a vital economic driver to the prosperity of Florida's residents we are pleased that the Florida Legislature understands the importance of tourism, especially after the turmoil of the past few years. Reauthorizing Visit Florida as the umbrella marketing organization for the destination is integral to the success of the state and as a supporting body for all of the individual DMOs."
Jorge Pesquera, President & CEO, Discover The Palm Beaches
"Countries with a strong tourism economy have Ministries of Tourism as a reaffirmation of the importance of this sector. We have Visit Florida because we are the most 'tourism intensive' state in the union and we are pleased to see them reauthorized for another several years. It is probably time to make Visit Florida a permanent entity to ensure its continuity in protecting Florida's largest industry."
DT Minich, President/CEO, Experience Kissimmee
"Experience Kissimmee applauds the legislature for extending Visit Florida's sunset date. Tourism is Osceola County's top industry and job creator, and organizations like Visit Florida are an integral part to keeping visitors coming here. As we begin to look forward to the optimistic future of tourism in the state of Florida, our partnership with Visit Florida is key to supporting our efforts to promote the destination and to grow the economic impact that tourism brings to our community."
Virginia Haley, President, Visit Sarasota
"Visit Sarasota depends on Visit Florida programs that allow us to reach a wider audience. The stability that a five-year extension for Visit Florida offers will allow us to collaborate successfully in this competitive landscape."
Debbie Meihls, President & CEO, New Smyrna Beach Area Visitors Bureau
"Visit Florida plays an integral part of the visitor economy here in Florida; evident by the historical visitation numbers we see each quarter.  Not only has Visit Florida help all businesses in Florida get the word out that we are 'OPEN' during the pandemic, but their marketing arm reaches far and wide for small and large Destination Marketing Organizations across the state.  While we are a small Destination Marketing Organization, we count on Visit Florida to get the word out about Florida, acting as an umbrella marketing platform that softens the audience for us to then come into those feeder markets with our smaller marketing budgets. Tourism is the gateway to economic development and we must keep Visit Florida working, as Tourism Works for Florida! Thank you to the Florida Legislation for renewing Visit Florida and restoring their budget."
Destinations Florida is the statewide association that serves local tourism promotion organizations. It serves as the unifying voice representing Florida's destination marketing organizations and strives to increase the effectiveness of local tourism promotion organizations' efforts.