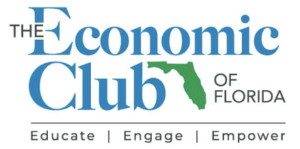 How do the Chinese People View Themselves and America?
She was one of the first American graduate students allowed to enter China to conduct research after President Jimmy Carter normalized relations in 1979. Today, as founding director of the China Research Center in Atlanta, Dr. Penelope Prime will share her latest analysis of the macro political-economic environment of today's China in a luncheon speech before The Economic Club of Florida on March 22, from 11:30am to 1pm at the Florida State University Alumni Center in Tallahassee.
"I don't think of China in terms of good and bad, rather as a subject of objective economic analysis," she told Club officers in a recent conversation. "I'll also share with the Club how people in China think about themselves and think about the U.S. and how that compares to how we think about China." Dr. Prime's experience and knowledge is based on her many return visits to China over the past 40 years.
She said she created the China Research Center in 2001 to network the expertise that existed among the Atlanta-area colleges and universities and to share that collective knowledge with a greater audience of the public, corporate leaders, local government officials, and others "in a non-academic way." She added that the Center has received funding from corporations for its studies and although it has worked with the Confucius Institute, it is not funded by them or the Chinese government.
"China's role as both an economic and military competitor and the current state of world affairs with the Russian invasion into Ukraine, makes this a particularly timely and critical discussion," said Club Chairman Barney Bishop III.
Dr. Prime is a retired professor of economics and international business at Georgia State University. Over her career, she took more than 400 students to China for study. Fluent in Mandarin Chinese, her career includes teaching economics at both U.S. and Chinese universities and the Ministry of Economics in Taiwan. She also served for seven years as a research analyst for the U.S. Census Bureau's Eurasian Branch. She is the co-editor of two books: Global Giant: Is China Changing the Rules of the Game? and Taiwan's Democracy: Economic and Political Challenges, and the author of many articles.
The public is welcome to attend the in-person luncheon or virtual webinar version of this address by registering at the Club's home page at www.Economic-Club.com. There is a luncheon fee of $40.
The Economic Club of Florida is the South's leading forum for speakers of regional and national distinction to discuss the major issues of the day. On the web at www.economic-club.com | @EconClubFL | Facebook along with podcasts and summaries of past addresses.