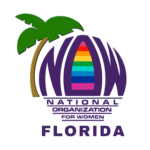 Florida National Organization for Women applauds the House and Senate passage of the FY 2022 Omnibus Appropriations Act signed into law by President Biden today, which includes the strong, bipartisan Violence Against Women Act (VAWA). In addition to strong provision to ensure survivors' access to healing services and programs to prevent sexual violence, the bill increases the funding for the Sexual Assault Services Program, Rape Prevention and Education Program, and Culturally Specific Services Program.
Statement from Debbie Deland, Florida NOW President:
"Florida NOW celebrates the bi-partisan reauthorization of the 1994 Violence Against Women Act (VAWA). VAWA is essential to providing resources to victims of domestic and sexual violence and ending gendered based violence. We applaud that this reauthorization creates the first grant program dedicated to LGBTQ+ survivors and hope the VAWA Tribal provisions will restore justice for Native American communities. We thank the survivors, advocates, policy leaders, congressional staff with Senate and House leaders who worked so hard to get VAWA reauthorized despite the road blocks since it's expiration in 2019. We enthusiastically thank Joe Biden for his long support and leadership with VAWA as well as all the co-sponsors of the Act like Senators Feinstein, Ernst, Durbin, and Murkowski. Implementing the VAWA at state and local levels is next, and we will be ready here in Florida to do our part."
Among many important and lifesaving advancements, this legislation:
Creates the first grant program dedicated to LGBTQ+ domestic violence and sexual assault survivors.
Significantly increases the authorization of several VAWA programs including the Sexual Assault Services Program, Rape Prevention & Education Program, Rural Program, Culturally Specific Services Program, and the Campus Grants Program.
Reaffirms the sovereignty of tribes to hold non-Indian offenders of sexual violence accountable on tribal lands.
Expands the availability of sexual assault forensic examinations for survivors of sexual assault some of whom currently must drive hours to reach the nearest services.
Addresses campus sexual assault including requiring climate survey.
Allows for direct payments to survivors for their emergency needs through the Sexual Assault Services Program.
Invests in restorative practices for survivors looking for additional pathways for accountability.
Florida NOW's purpose is to take action through intersectional grassroots activism to promote feminist ideals, lead societal change, eliminate discrimination, and achieve and protect the equal rights of all women and girls.