DCF Secretary Shevaun Harris and others join in kickoff
event marking April as Child Abuse Prevention Month
Department of Children and Families (DCF) Secretary Shevaun Harris was today joined by state leaders and child welfare advocates to highlight the importance of healthy child development and supporting families during the Child Abuse Prevention Month kickoff event at the Historic Florida Capitol. Partnering speakers included State Surgeon General Joseph Ladapo, Department of Education Senior Chancellor Henry Mack, and Prevent Child Abuse Florida Executive Director Chris Lolley.
"Child abuse prevention starts within our communities. Supporting families, reinforcing positive parenting practices — that simple act of reaching out and offering to help a family when they need it most — is truly how we can make a meaningful impact and build great childhoods for all children," said DCF Secretary Shevaun Harris. "Ensuring families have access to needed services, like mental health supports, is critical in preventing child abuse."
During the month of April, Prevent Child Abuse Florida, in collaboration with DCF and the Ounce of Prevention Fund of Florida, implements Pinwheels for Prevention, a statewide coordinated campaign to raise awareness of child abuse prevention efforts by focusing on healthy child development and support for parents. Child advocates plant blue and silver pinwheel gardens in communities throughout the state to represent the positive healthy childhoods all children deserve.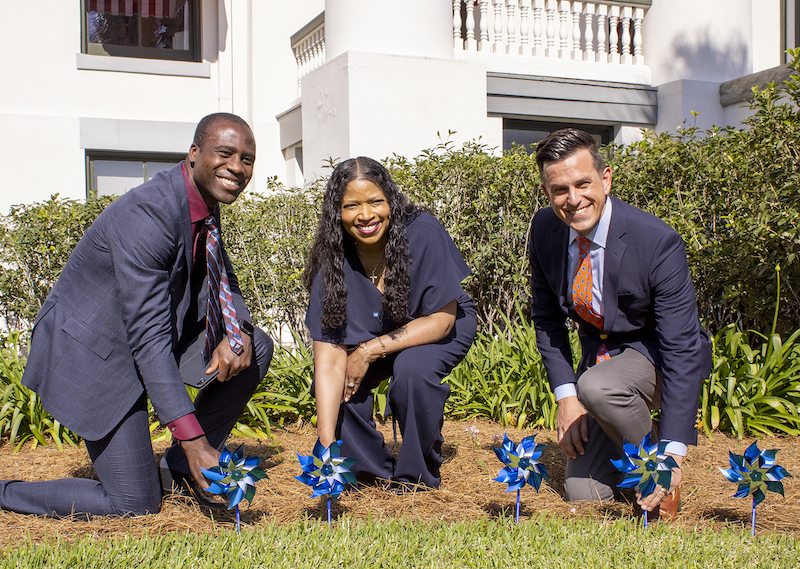 "The State of Florida is dedicated to the prosperity of all children for generations. Through this campaign, we highlight our state's coordinated efforts and programs that promote healthy child development and the prevention of child abuse," said State Surgeon General Joseph Ladapo. "Child abuse prevention is a cause dear to all of our hearts for reasons that go without saying. We can all do our part in increasing awareness and preventing child abuse in our communities."
Studies have shown that children have better mental and physical health and academic success when they are raised in a safe, stable, and nurturing environment. Under Governor DeSantis' leadership, state agencies and their partners are working to enhance parental and caregiver resources to lend support to families before they reach a crisis state. Several initiatives include expanding access to behavioral health resources and offering one-on-one support on a family's journey to reaching their own version of economic self-sufficiency.
"Florida has been and continues to be committed to ensuring all children are raised in safe and nurturing environments," said Senior Chancellor Henry Mack of the Florida Department of Education. "Children are among the most vulnerable among us—needing education for virtue, exposure to a loving and healthy family unit, and experiences that will help them become productive, informed citizens. Our responsibility is a collective one, one upon which the future of our society depends."
Child Abuse Prevention Month provides everyone a chance to learn how they can play a role in preventing abuse and neglect, including adverse childhood experiences. It's an opportunity to remind Floridians of all ages that they can help children increase positive childhood experiences, which lead to happier, healthier childhoods.
"All parents want what's best for their child and do their best to raise them in a nurturing and healthy environment, but sometimes parents need a little support, especially in times of stress," said Chris Lolley, Executive Director of Prevent Child Abuse Florida, part of the Ounce of Prevention Fund of Florida. "That's why we're asking everyone to take action to engage with parents in their community. Every Floridian can play a role in helping children grow up healthy, happy, and safe. Just as it only takes a little wind to make these pinwheels spin, it only takes a small amount of effort from each of us to help families stay strong." 
On April 1, Governor Ron DeSantis issued a proclamation recognizing April as Child Abuse Prevention Month in Florida. Watch the video of today's event on Prevent Child Abuse Florida's Facebook page. To learn more about Pinwheels for Prevention and how you can make a difference, visit www.preventchildabusefl.org.