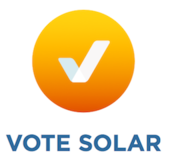 Groups thank governor, pledge to continue advocating for accessible solar
Florida Governor Ron DeSantis today sided with Florida homeowners and small businesses by vetoing the controversial House Bill 741.
The legislation sought to take aim at solar net metering — a popular program that allows rooftop solar customers to receive full retail credit from their utility for excess energy generated. Net metering is a pillar of Florida's up-and-coming rooftop solar industry, which supports nearly 40,500 jobs and generates $18.3 billion annually in economic impact.
"Thank you to Governor DeSantis for siding with job and energy freedom by vetoing this harmful legislation," says Katie Chiles Ottenweller, Southeast Regional Director at Vote Solar. "I'm glad the governor recognized the devastating impacts that HB 741 would have on our economy, workforce, and energy freedom. Today, Florida lives up to its name as the Sunshine State."
Despite widespread public opposition, both chambers of the Florida legislature passed HB 741 in early March. Since then, scores of Floridians have called on the governor to veto, including business owners, clean energy advocates, and military veterans.
"We're thankful for the tens of thousands of Florida residents who have spoken up against this harmful legislation since it was introduced last fall," says Heaven Campbell, Florida State Director for Solar United Neighbors. "This victory is a testament to what can be accomplished when people from all backgrounds and political affiliations come together in support of fair, common-sense policy."  This is a huge victory for Florida's consumers and their right to produce their own homegrown energy. We applaud Governor DeSantis for protecting Floridians from monopoly utilities and the increasing burden of rising electric bills. This ensures a bright future for solar and we can't wait to help all Floridians bring more sunshine into their homes and businesses."
About Solar United Neighbors
Solar United Neighbors is a nonprofit organization that works in Florida and nationwide to represent the needs and interests of solar owners and supporters. Solar United Neighbors holds events and education programs to help people become informed solar consumers, maximize the value of their solar investment, and advocate for fair solar policies.
About Vote Solar
Vote Solar is a national advocacy non-profit fighting for a 100% clean energy transition that puts the interests, health and well-being of people at its center.