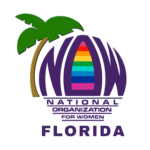 Florida NOW (National Organization for Women) President Debbie Deland released the following statement after the leak of the SCOTUS opinion overturning Roe v. Wade.
Statement from Debbie Deland, Florida NOW President:
"The leaked opinion to overturn Roe v Wade flies in the face of what the justices testified in their confirmation hearings, 'Roe v Wade is the law'. They lied. Alito's preliminary opinion is a hardline position, saying that states can criminalize abortion with no exceptions for rape and incest."
"This is an outrageous undoing of a law on the books for 50 years. It is a deliberate attack on women's freedom basically by men. It is a terrible and hurtful decision for women and women's rights. It's a war on women! We won't tolerate it. We will fight for abortion in every way possible."
"Let's look at women's rights. For gender equality, access to abortion to birth control are pre-requisites. Women have the right to control their own lives, not the government whether it be a biased Court or State government."
"All women need access to affordable birth control and other basic services to have and bring up children when and how it is best for them. This decision hearkens back to keeping women pregnant and in the kitchen. In fact, I have heard that from the Far-Right youth, "get back in the kitchen."
"This decision by SCOTUS is also grossly discriminatory. This egregious ruling would disproportionately affect our Black, Brown, Low-Income, and Disabled neighbors. Middle-class and the wealthy, predominantly white people will be able to go out of state to get their abortions. Abortion access can't be dependent on the color of your skin, where you live, or how you define your identity."
"We will fight even when we lose and then fight again. This isn't over and never will be until abortion and birth control are framed in our nation as basic human rights! We will never give up!"
Florida NOW's purpose is to take action through intersectional grassroots activism to promote feminist ideals, lead societal change, eliminate discrimination, and achieve and protect the equal rights of all women and girls.