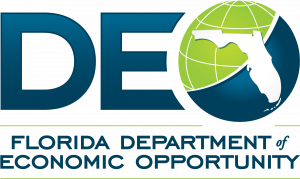 The Florida Department of Economic Opportunity (DEO) today highlighted the 2022-2023 Freedom First budget, signed by Governor Ron DeSantis. The budget prioritizes Florida families, strengthens Florida's businesses, and invests in the future of Florida's communities.
"I want to thank Governor DeSantis and the Florida Legislature for their unwavering commitment to making historic investments in the future of Florida's families, businesses, and communities. These investments pave the way for continued job growth and opportunity as Florida's economy continues to outpace the nation month after month," said DEO Secretary Dane Eagle. "Under Governor DeSantis' bold leadership, Florida experienced its 24th consecutive month of job growth, and the state unemployment rate has remained below the national rate for 17 consecutive months, reaffirming Floridians' trust that their future in Florida is bright. From recognizing our first responders and law enforcement officers, to prioritizing our rural communities, infrastructure, and workforce, the accomplishments made in the 2022 Legislative Session will ensure that DEO and the state are well equipped to foster economic growth and resiliency in Florida communities for generations."
Budget Highlights
As part of the Freedom First budget signed by the Governor, the Florida Legislature provided $400 million to support Florida's Broadband Opportunity Grant Program. The program will provide grant funding to expand high-speed internet connection to communities in need of the essential service, addressing historical broadband deficiencies and paving the way for future economic growth.
$50 million was allocated to the Florida Job Growth Grant Fund to support economic development. The grants will assist communities in funding workforce training and public infrastructure projects to support growth and employment in Florida.
$30 million was allocated to the Rural Infrastructure Fund, which facilitates the planning, preparation, and financing of infrastructure projects in rural communities. Funded projects encourage job creation, capital investment, and the strengthening and diversification of rural economies.
$250 million, including a reappropriated balance of $100 million, was allocated to the FL WINS project, a strategic alignment and coordination of education and workforce initiatives that will provide Floridians with broader access to education and training options, labor market information, career planning tools, workforce training, and education support.
Florida Housing Finance Corporation, a DEO partner, was allocated $100 million for the Florida Hometown Heroes Housing Program. The program makes homeownership affordable for eligible frontline community workers such as law enforcement officers, firefighters, educators, healthcare professionals, childcare employees, and active military or veterans. A total of  $363 million was allocated for affordable and workforce housing through the Affordable Housing Trust Fund, the most awarded in 15 years.
$125 million was provided for recognition payments to local government first responders, including sworn law enforcement officers, emergency medical technicians, firefighters, and paramedics. Additionally, $20 million was allocated for law enforcement recruitment bonuses to bring the best and most talented officers to the state of Florida.
$7 million was allocated for the Noncustodial Parent Program, which will award grants to organizations that assist non-custodial parents who are unemployed or underemployed and have difficulty meeting child support obligations in becoming self-sufficient and establishing a successful pattern of meeting child support payments.
VISIT Florida, the state's official tourism marketing corporation and one of DEO's partners, was allocated $50 million.
For more information on these funded initiatives that will benefit Floridians, click here.
About DEO
The Florida Department of Economic Opportunity combines the state's economic, workforce, and community development efforts, expediting economic development projects to fuel job creation in competitive communities and promote economic resiliency. For more information, including valuable resources for employers and job seekers, please visit www.FloridaJobs.org.