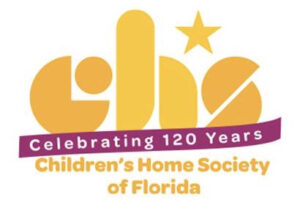 Children's Home Society of Florida (CHS) is celebrating 120 years of devoted service to children and families. Founded November 17, 1902, CHS was established as a child welfare society focused on placing children in safe, loving healthy homes.
Before the invention of bubble gum or the Model T. Ford, CHS was uniting Florida residents to come to the aid of vulnerable children. Throughout the decades, the organization leveraged its legacy and influence to secure rights and welfare laws for children nationwide including the development of U.S. compulsory education and child labor laws.
Recognized as a national leader in child well-being and trauma-informed care, CHS continues to lead the way in identifying and addressing key issues facing Florida's children and families. While honoring roots in child welfare, CHS' local focus has greatly evolved to empower families on the front end; through trailblazing mental health care and in-school solutions that stabilize and strengthen families.
In Pinellas County, CHS provides specialized mental health care for families with infants and toddlers – strengthening bonds and supporting parents with young children. Last year alone, CHS counselors served more than 500 infants and toddlers with this unique level of support.
CHS is also a core partner in 27 community partnership schools™ models throughout Florida – more than any other entity in the state. CHS and the model are transforming outcomes for students at Mort Elementary, A UCF-Certified Community Partnership School in Hillsborough County and Manatee Elementary, A Community Partnership School in Manatee County. Since implementing the model in 2016, Mort Elementary has increased access to health and wellness services, counseling, family engagement, and after school activities – key needs identified by parents, teachers and community leaders in an initial assessment.
CHS recently announced Manatee's Daughtrey Elementary School will adopt the model in the 2022-2023 school year.
"Children's Home Society of Florida's founding and longevity would not have been possible without community support," said Andry Sweet, Children's Home Society of Florida President & CEO. "Under the guidance of Rev. D.W. Comstock and then the inspiring leadership of Marcus C. Fagg, it took community partnerships, friends, volunteers and do-gooders coming together to make new opportunities for children who otherwise would not have had safe, stable homes. Today, we continue to inspire good and create opportunities for children to realize their full potential."
CHS opened its first location on the Gulf Coast in 1964 to better serve local children and families throughout the Tampa Bay area. Today, CHS' Suncoast, Tampa region serves more than 2,000 children and families throughout the Suncoast.
Looking forward to the next 120 years, the organization offers several opportunities to get involved and become a part of CHS' storied history. To learn more visit https://chsfl.org/home-page/120-years-of-inspiring-good.
About Children's Home Society of Florida
On the front lines since 1902, Children's Home Society of Florida is the oldest and largest statewide organization devoted to helping children and families. Children's Home Society of Florida serves more than 60,000 children and family members throughout the state each year. More: www.chsfl.org.