Florida Governor Ron DeSantis has officially proclaimed Nov. 14-18, 2022, as Florida Recycles Week, and the Florida Recycling Partnership Foundation and Florida Department of Environmental Protection (DEP) are joining forces to encourage all Floridians to recycle. On Friday, Nov. 18, several companies, and organizations were recognized for their recycling efforts.
DEP presented Recycling Recognition Awards to Collier, Sumter, Charlotte, Lee, and Palm Beach counties for meeting the interim statewide recycling goal of 75 percent for 2021.
Florida Recycling Partnership Foundation announced the following 2022 Recycling Champion Award Winners:
Publix Super Markets – Best Overall
Brightmark: Marine Science 101 – Communication & Education
Brightmark: NOAA – Waste Reduction, Recycling & Reuse
Anheuser-Busch – Water Reuse/Recycling
Tampa International Airport – Energy Efficiency
National Storm Water Trust: Port of Tampa Bay – Environmental Stewardship
NuCycle Energy – Innovation
Exploria Stadium – Recycling Market Development
The Recycling Champion Award Winners will be featured in a webinar in January 2023.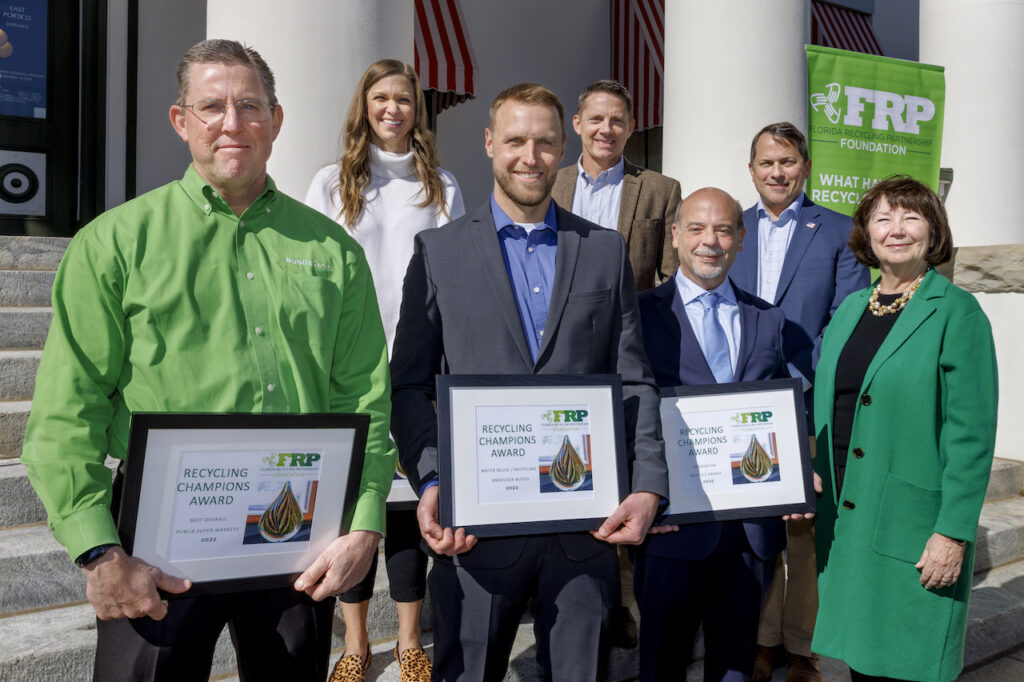 2022 Recycling Champion Award Winners
Photo – first row – Ken Wilson – Publix Super Markets; Andy Zoka – Anheuser-Busch; Mark Barash – NuCycle Energy; Keyna Cory, Executive Director – Florida Recycling Partnership Foundation; second row – Erin Ballas – Brightmark; Jeff Littlejohn and John Ferguson – National Storm Water Trust – Port Tampa Bay (COLIN HACKLEY PHOTO)