2023 marks the 60th anniversary of LeadingAge Florida, the state's only association representing the entire continuum of care for aging services. Originally established in 1963 as the Florida Association of Homes for the Aging, LeadingAge Florida was founded by mission-driven professionals with a commitment to improving care and services for older Floridians.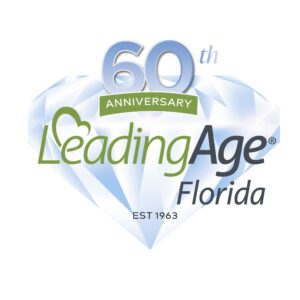 They recognized that their ability to shape public policy would be greatly enhanced by the creation of a statewide organization for like-minded individuals. The association has been committed to serving high-quality providers and their residents ever since.
"Over the past six decades nearly everything in senior living has changed – the people, programs and services, standards of care, technology, regulations, reimbursement systems, and even the very nature of our members," said Steve Bahmer, LeadingAge Florida President & CEO. "We have grown and evolved as an association to meet the ever-changing needs of our provider members, with many additional opportunities for growth still ahead."
Throughout its history, the association has delivered results for its members through advancing good public policy and defeating proposals that would harm providers and the residents they care for. In addition to advocacy, relationships and networking remain key elements of member value.
"There is a large group of core people and providers who helped create and grow the association who are still around today," said Bruce Jones, CEO of LCPS Management and the current Chair of the LeadingAge Florida Board. "We have strong leaders in the field that stay involved and stay active. They continue to share the stories, the legacy, and I think that's contributed to the longevity of the association. The history is kept, the purpose is kept, all while the vision continues to grow."
Throughout the first half of 2023, LeadingAge Florida will highlight different people, accomplishments and events that helped shape its first 60 years of service. The anniversary celebration will culminate at the 60th Annual LeadingAge Florida Convention and Exposition, July 17-19 in Orlando.
About LeadingAge Florida
For 60 years, LeadingAge Florida has been the state's leading advocate for high-quality senior living, aging services and care. We are the only statewide association representing the full continuum of care for seniors. The Association provides up-to-date regulatory information, a wide variety of educational opportunities, representation before the Legislature and government agencies, group purchasing services, and opportunities for networking with peers to help member communities best serve the needs of Florida's senior population.