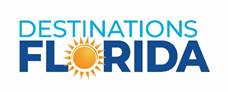 Destinations Florida applauds Governor Ron DeSantis' recommended $100 million budget for Visit Florida next fiscal year. Funding for Visit Florida initiatives that attract visitors to Florida play a critical role in generating local and state revenue that helps keep the tax base low for residents and to create job opportunities that put Floridians to work.
The tourism promotion efforts of Visit Florida have resulted in record visitation to Florida in the third quarter of 2022. Visit Florida estimates that the Sunshine State welcomed 35.1 million visitors between July and September 2022, which is a 6.9 percent increase over the same quarter the previous year. From the beginning of 2022 and through the third quarter of the year, 104.5 million visitors travelled to Florida, an increase of 4.1 percent from the same pre-pandemic period in 2019, and 15.3 percent more than in 2021.
"Governor DeSantis recognizes the key economic engine driving Florida's growth, low tax rate and attracting new residents with his recommendation to fund Visit Florida at a level that will enable our state to remain the world's number one destination," said Robert Skrob, Destinations Florida Executive Director. "Visit Florida has a proven track record of success helping thousands of small businesses throughout Florida to grow and a budget of $100 million will help them build upon that success."
Visit Florida highlights from this past year include:
Launched a multi-million-dollar marketing plan to promote tourism to the state following Hurricane Ian. The multi-phased campaign includes an initial effort showing that Florida is open for business, as well as a comprehensive recovery package for the areas of the state that were most severely impacted by the storm.
Executed a total of 15 domestic and international campaigns with Expedia. The campaigns resulted in 2.2 million air tickets, 2.4 million room nights, 1.3 million vacation rental nights, 5.3 million passengers, and nearly $517 million in total gross bookings.
Hosted Florida Huddle (serving the international travel trade industry) and Florida Encounter (serving the meetings and events industry) simultaneously for the first time ever in Tampa. Together, the events were attended by more than 600 registrants, representing 24 countries and over 7,500 appointments.
Awarded the distinction of International Destination Guest of Honor at the ANATO Tourist Showcase in Bogota, Colombia—the first state to ever receive this designation in the event's history.
Led multi-city mission trips to Mexico and Brazil to further foster Florida's presence among Latin American travelers – which encompassed eight of Florida's top 10 international origin markets in 2021.
Won the "Most Desirable Region – Rest of the World" at the UK Wanderlust Magazine travel awards. The awards are voted on by Wanderlust readers and received a total of 50,000 votes this year for all categories.
Destinations Florida is the statewide association that serves local tourism promotion organizations. It serves as the unifying voice representing Florida's destination marketing organizations and strives to increase the effectiveness of local tourism promotion organizations' efforts.