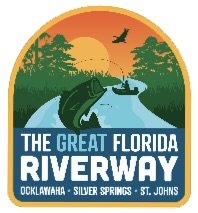 MEDIA ADVISORY
Featuring life-size photographic exhibit and walking tours
The Great Florida Riverway, a coalition of nonprofits working to restore the ecological and economic health of the Ocklawaha, St. Johns, and Silver Rivers and surrounding communities, is hosting a photo and film exhibition, and leading walking tours in the Florida Capitol Rotunda on Wednesday, February 15. 
The exhibition emphasizes the multi-county reach and economic and environmental benefits that restoration of the Ocklawaha River will have on Florida, as well as raise awareness and highlight support. The event will feature educational walking tours and discussions, a photo booth, and a live mermaid representing The Great Florida Riverway!
Please see below for more information on the event.
WHO: The Great Florida Riverway
WHAT: Wednesday, Feb. 15, 2023
WHEN: 9:00 a.m. to 4:00 pm.
WHERE: The Florida Capitol Rotunda, 3rd Floor
400 S Monroe St., Tallahassee, Fla. 32399
Reuniting the Ocklawaha River with the St. Johns and Silver rivers will help recover 20 Ocklawaha River springs and improve the 30 springs that comprise Silver Springs. The Great Florida Riverway advocates for breaching the Rodman/Kirkpatrick Dam to improve water quality, benefit fishing and other recreation, create jobs, and revitalize the communities, overall creating a better economic future for central and northeast Florida.
Some of Florida's most noted experts in water, springs and rivers, economics, ecotourism, and wildlife will act as "river guides" for the walking tour, including:
Alan Youngblood – Silver Springs Dive Team (has been diving Silver Springs for three decades)
Mark Emery – Former bass guide in the Rodman and Emmy Award-winning Cinematographer
Kim Dinkins – Save the Manatee (Expert on manatees in the Ocklawaha and Silver Springs)
Steve Holland – Ecotourism Professor Emeritus (Conducted economic studies on Florida's springs)
John Hendrickson – Water Quality Scientist, Retired SJRMD (Leading expert on water quality issues related to the dam and Lower St. Johns)
Steve Walsh – Former USGS Fish Biologist, Retired (Leading expert on fish in the St. Johns and Ocklawaha)
Casey Fitzgerald – Science Team Chair, Formerly Assist. Water Resources Director at SJRWMD (expert on Florida springs)
Jim Stevenson – Retired FDEP Springs Director (helped with planning process for Silver Springs)
Sam Carr – Putnam County angler and Bartram Trails Leader
Jessica and Kevin Finch – Welaka leaders and Former Owners of Welaka Lodge
Sarah Lockhart – UF PhD Student, UF Center for Landscape and Conservation Planning