Erin Jackson, a U.S. Olympic gold medalist speedskater, Florida native and University of Florida engineering alumna, will share her story: She will give the commencement address at UF's all-university spring graduation ceremony May 5.
"Erin Jackson is a history maker," Sasse said. "She is an Olympic champion who excelled as a student on our campus. The UF community is honored to welcome Erin back to Gainesville — to celebrate her successes and to celebrate this year's graduating class. Melissa and I look forward to meeting her. This will be a great day for Gator Nation."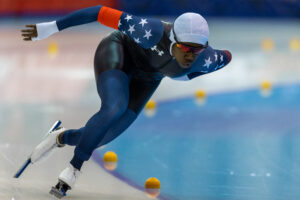 Jackson said being a commencement speaker is beyond her dreams.
"Anyone who knows me, knows how much I value education," she said. "While I'm certainly proud of my athletic accomplishments, I'm particularly honored to be invited to speak to the students, faculty and families of a place that is so special to me," Jackson said. "I did indeed dream of becoming an Olympic Gold Medalist, but never did I dream that I would someday be invited back to my alma mater as a commencement speaker."
Jackson, 30, who grew up in Ocala and is a 2015 cum laude graduate of UF in materials science and engineering, became the first Black woman in history to win an individual gold medal at the Olympic winter games in 2022 in Beijing. She is also the first Black American woman to win a World Cup Gold Medal.
More about Jackson can be found here: https://www.teamusa.org/us-speedskating/athletes/Erin-Jackson-Speed-Skating.
The university-wide commencement ceremony is set for 7 p.m. Friday, May 5 in Ben Hill Griffin Stadium. It is free and open to everyone, with no tickets needed to attend. More information is available here: https://commencement.ufl.edu.