The Women's Center at the University of North Florida will recognize national Women's History Month through a series of engaging events and programs in March. The signature Women's History Month Luncheon, featuring a keynote from Dr. M. Jocelyn Elders, the first person in the state of Arkansas to become board certified in pediatric endocrinology, the fifteenth Surgeon General of the United States, the first African American and only the second woman to head the U.S. Public Health Service, will be held at noon on Friday, March 3, in the John A. Delaney Student Union Ballrooms.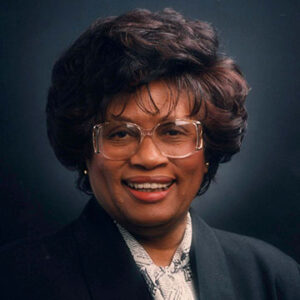 Now retired from practice, Elders remains active in public health education and is a professor emeritus at the University of Arkansas School of Medicine where she served as a faculty researcher and professor of pediatric endocrinology at the Arkansas Children's Hospital since 1971. Over her distinguished career, Elders combined her clinical practice with research in pediatric endocrinology, publishing well over a hundred papers, most dealing with problems of growth and juvenile diabetes.
Elders served as U.S. Surgeon General under former President Bill Clinton. Prior to that she headed the Arkansas Department of Health from 1987 to 1992, where she campaigned for clinics, expanded sex education and the state's prenatal care program, nearly doubled childhood immunizations, and increased home-care options for the chronically or terminally ill.
Born to poor farming parents in 1933 and growing up in a rural, segregated, poverty-stricken pocket of Arkansas, Elders' story is one of overcoming prejudice, sexism and adversity. After earning a scholarship from the United Methodist Church to attend Philander-Smith College in Little Rock, Arkansas, Elders joined the Army and trained in physical therapy at the Brooke Army Medical Center at Fort Sam Houston, Texas. After discharge, she enrolled at the University of Arkansas Medical School on the G.I. Bill.
Elders has been active in civic affairs as a member of the Little Rock Chamber of Commerce, Northside YMCA, and Youth Homes. She was listed in "100 Outstanding Women in Arkansas", "Personalities of the South" and "Distinguished Women in America". She has won awards such as the Arkansas Democrat's Woman of the Year, the National Governor's Association Distinguished Service Award, the American Medical Association's Dr. Nathan Davis Award, and the National Coalition of 100 Black Women's Candace Award for Health Science.
Her story is shared in her 1996 autobiography, "Joycelyn Elders, M.D.: From Sharecropper's Daughter to Surgeon General of the United States of America."
In addition to the luncheon, the Women's Center will also host several other events that celebrate and honor women this month, including:
Women's History Month Kickoff with Women's Basketball Team: Wednesday, March 1, from 5 to 9 p.m. at the UNF Arena, Building 34
Women's History Month Trivia: Friday, March 10, from 2 to 4 p.m. at the Boathouse, Building 58W, Suite2600
DIY Banner: Name an Influential Woman: Tuesday, March 21, from 1 to 3 p.m. outside Building 2
To learn more and register for the Women's History Month Celebration Luncheon, visit the Women's Center website.