Secretary of State Cord Byrd announced today that The Grove Museum will be hosting its sixth annual Grove Day celebration on Saturday, March 11, 2023.
"Grove Day celebrates the anniversary of the opening of The Grove Museum and is a great opportunity for the whole family to enjoy live music and performances, food trucks, outdoor games and activities, guided tours, and share information about local cultural opportunities," said Secretary Byrd. "I personally invite the entire community to participate in this year's event, enjoy The Grove Museum's grounds in bloom, and learn about the history of Tallahassee and the state of Florida."
Grove Day 2023
Saturday, March 11 from 10:00 AM to 3:00 PM
Free and Open to the Public
Main Entrance & Parking at 902 N. Monroe St. in Tallahassee, Florida
Phone 850-245-6100
Website: TheGroveMuseum.com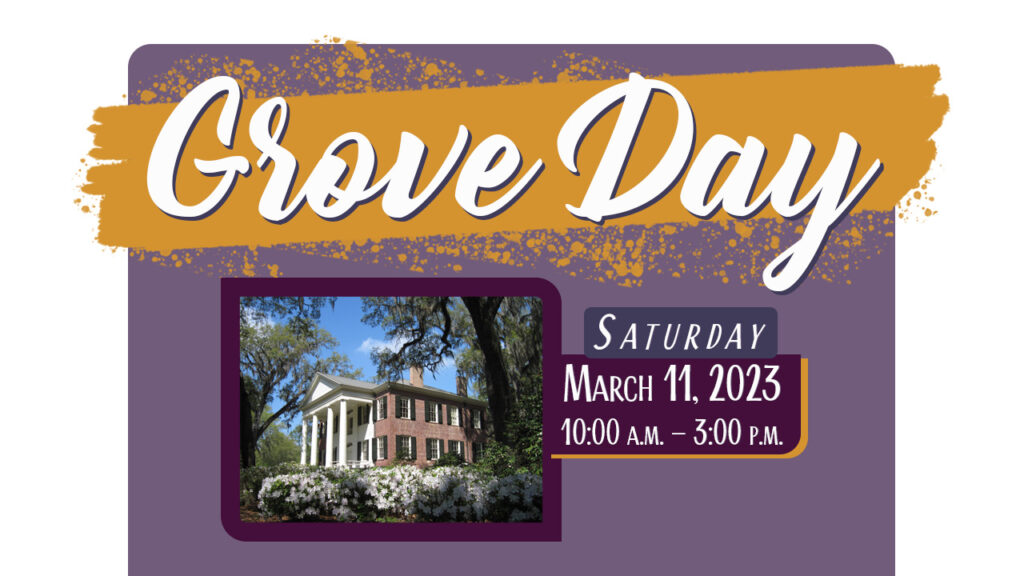 Grove Day 2023 Events Schedule: 
10:00 AM to 10:15 AM—Welcoming remarks

10:00 AM to 4:00 PM—Museum galleries open with guides stationed in the Call-Collins House to answer questions

10:15 AM to 11:15 AM—Children's musical performance by The Runaway

Biscuits

 

10:30 AM to 11:15 AM—First guided tour of the Cognetta Map Exhibit

11:15 AM to 11:45 AM—Children's dance led by Irvin Gonzalez

11:45 AM to 12:15 PM—Step performance by the Omega Lamplighters

1:15 PM to 2:15 PM—Archaeology tour led by Brandon Ackermann, Senior Archaeologist with the Florida Bureau of Archaeological Research 

 

2:00 PM to 2:30 PM—Second guided tour of the Cognetta Map Exhibit

All-Day—free refreshments, children's crafts, hands-on art activities, and

outdoor toys and lawn games, including bubbles, lawn checkers, bocce ball, croquet, and corn hole

 
 Grove Day 2023 Community Partner Schedule: 
10:00 AM to 2:00 PM— 

Oh' Lemonade and SWAT (Seafood Wings &

Things) food trucks

10:15 AM to 3:00 PM—Information and activities provided by community

partners including the Council on Arts and Culture, the State Archives, Sustainable Tallahassee, WFSU, and other local museums such as the Florida Historic Capitol Museum and the John G. Riley Center and Museum

12:30 PM to 1:30 PM—Free snow cones from Sneauxballs Food Truck,

while supplies last
Follow @TheGroveMuseum on Facebook, or visit TheGroveMuseum.com, for the latest updates and for additional information about the event.