Now that temperatures are rising and spring is here, it's the perfect time for outside DIY projects. April is National Safe Digging Month, and the Florida Public Service Commission (PSC) wants to increase safe digging awareness by encouraging you to "Call 811 Before you Dig!"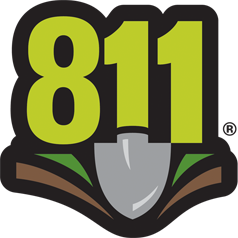 "Most of Florida's utility infrastructure runs underground," said PSC Commissioner Gabriella Passidomo. "So calling 811 before any excavation project is crucial, whether building a fence, working on landscape, or digging a trench. Taking this essential step could save time, money, resources, and even your life."
Buried utility lines are damaged once every nine minutes across the United States, causing severe injuries and/or service disruption to entire neighborhoods. Before digging in your yard or at a construction site, you must call 811 to receive the necessary underground utility clearances.
Calling 811 connects you to your local underground utility operators, who will mark the approximate location of buried natural gas, electric, telecommunications, water, and sewer lines that may be near where you plan to dig. Failing to call before you dig can result in fines, penalties, and repair costs.
In Florida, 811 is managed by the Sunshine State One Call Center. Hours are 7:00 a.m. to 5:00 p.m., Monday through Friday. Call at least two working days before your "digging" project start date. This gives the utility companies time to find and mark buried lines on your property. In addition to calling 811, you can reach the Sunshine State One Call Center at 1-800-432-4770.
To learn more about 811, visit www.call811.com or view the Commission's Consumer Tip video here. The U.S. Department of Transportation's Pipeline and Hazardous Materials Administration supports April's Call Before You Dig Campaign. The Sunshine State One Call Center's website is www.sunshine811.com.
For additional information, visit www.floridapsc.com.
Follow the PSC on Twitter and LinkedIn.
Subscribe to the Commission's YouTube channel for Consumer Tips and PSAs.