Researchers from Florida State University and Florida A&M University are partnering with the government of Honduras on an international, interdisciplinary project to improve health care in rural Honduran communities.
The Global Health Collaboration Project, or GHCP, is an initiative of FSU, FAMU and the medical school of the National Autonomous University of Honduras. Researchers with the project recently signed a memorandum of understanding with the Honduran Ministry of Science, Innovation and Technology, or SENACIT, to develop a health collaboration center in the country.
"Our goal is approaching public health problems in Honduras through the lens of scientific collaboration," said Charles Fleischer, director of FSU's Center on Global Health and a GHCP co-principal investigator. "Research at the center will inform interventions for improving patient care, mitigating potential harms and addressing acute and chronic conditions in ways that are culturally cognizant, feasible, scalable and sustainable."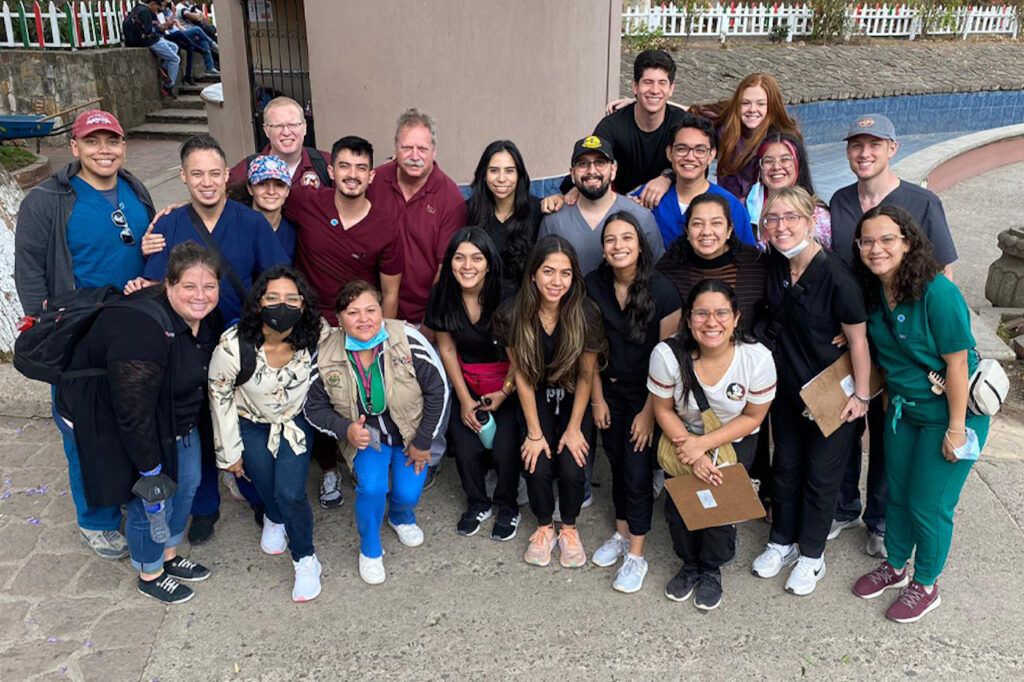 Members of the Global Health Collaboration Project during a visit to
Tegucigalpa, Honduras, in March 2023. (Courtesy of Charles Fleischer)
Along with physicians, GHCP includes researchers specializing in pharmacy, public health, nursing, engineering, social work and biomedical sciences. SENACIT will share data collected during its work to improve the availability of health data in Honduras and help the center's mission.
Researchers at the center will work with local populations to learn more about their culture and specific health circumstances and needs. This will provide insight for health care professionals to develop interventions designed for patients. Including input from the populations that the interventions are meant to serve respects their autonomy and makes it more likely that treatment will be effective, Fleischer said.
For example, consider high blood pressure. Non-medication approaches, such as adopting diets designed to treat the condition, have been shown to improve blood pressure and reduce the risk of stroke, heart disease and other chronic conditions. But physicians prescribing such an approach need to take into consideration what patients already eat and what food is available and affordable for them.
"Understanding the dietary practices of the population you are serving is extremely important, because what you're doing in one area will not always work well in another area," Fleischer said.
Along with helping to meet patients' health care needs, the center will provide a learning opportunity for students from the United States and Honduras.
"This interdisciplinary research collaboration between universities in the U.S. and Honduras provides professional development opportunities for students and faculty," said Fatimah Sherbeny, FAMU assistant professor and co-principal investigator. "It also highlights the importance of diversity, in skills, backgrounds and expertise, in establishing a comprehensive project to improve patient health outcomes in disadvantaged communities."
For students from FSU and FAMU, potential future opportunities with the center are an opportunity to challenge themselves and grow as researchers and medical professionals.
"It is a unique experience for students from all our programs involved to interact, hear from and learn from each other and from different backgrounds and environments," said Sunny Narayanan, FSU researcher and co-principal investigator. "This provides perspective, insight, and expands everyone's understanding of health, culture and our world."