Senate Bill 214 prohibits the collection of Floridians'
financial data related to firearm and ammunition purchases
Florida Commissioner of Agriculture Wilton Simpson is today applauding the Florida Legislature for successfully passing and sending to Governor DeSantis the "Florida Arms and Ammo Act," Senate Bill 214, which will make Florida the first state in the nation to prohibit the collection of Floridians' financial data related to firearm and ammunition purchases.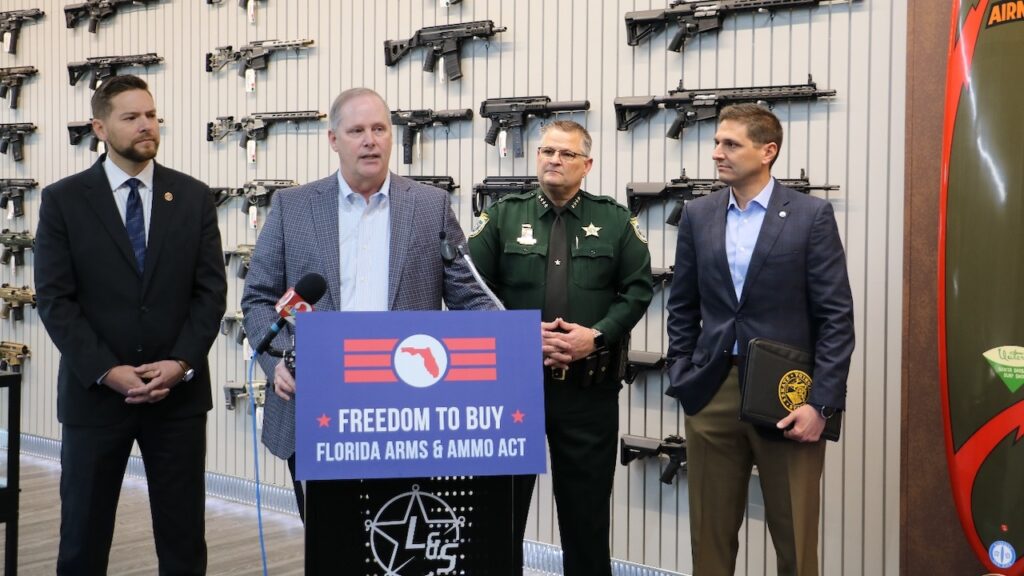 Commissioner Simpson announcing the Florida Arms and Ammo Act legislation with
Rep. Snyder, Sheriff Ivey and Senator Burgess in Titusville, Florida on January 10, 2023
"The 'Florida Arms and Ammo Act' draws a line in the sand and tells progressive financial institutions that they cannot covertly track, monitor, and report data on Floridians exercising their constitutionally protected Second Amendment rights," said Commissioner Simpson. "I thank President Passidomo, Speaker Renner, Senator Burgess, and Representative Snyder for their bold and determined leadership to deliver real protections to Floridians on this emerging threat."
"The Second Amendment is a fundamental right, and a fundamental American value. In Florida, we fight to protect those rights and values," said Senator Burgess. "I am grateful for Commissioner Simpson's leadership in bringing this bill forward, and I am proud to have worked alongside Rep. Snyder to ensure this legislation was sent to Governor DeSantis' desk."
"Categorizing the constitutionally protected right to purchase firearms unfairly singles out law-abiding merchants and consumers," said Representative Snyder. "Thanks to this bill that was passed by the Florida Legislature and championed by Commissioner Simpson and Senator Burgess, we are protecting the rights and privacy of Floridians and ensuring that any attempt from credit card companies to construct a back-door firearm registry is thwarted."
In January, Commissioner Simpson, Senator Danny Burgess, Representative John Snyder, and Brevard County Sherriff Wayne Ivey announced this proposed legislation, dubbed the  "Florida Arms and Ammo Act," to prohibit financial institutions from collecting and monitoring information on law-abiding Floridians' firearm and ammunition purchases. After significant pressure from gun control advocates and Congressional Democrats, the International Organization for Standardization (ISO) in 2022 created a new Merchant Category Code specifically designed to identify sales at firearm and ammunition retailers. This move would create a quasi-registry of Floridians who have legally purchased guns or ammunition.
The Florida Arms and Ammo Act amends s.790.335 F.S. to prohibit the use of a merchant category code that separately classifies a seller of firearms or ammunition. The bill also provides investigatory power to the Florida Department of Agriculture and Consumer Services to investigate alleged violations and bring forth an administrative fine, up to $10,000 per retailer unlawfully classified, to any financial entity.
For more information about the Florida Department of Agriculture and Consumer Services, visit FDACS.gov.