Construction is officially underway for the new DeLand SunRail Station – the 17th station along the SunRail Commuter Rail System across Central Florida.
Representatives from the Florida Department of Transportation (FDOT), the Central Florida Commuter Rail Commission, Volusia County, and the City of DeLand gathered with other civic leaders and residents for a groundbreaking ceremony Monday, May 22.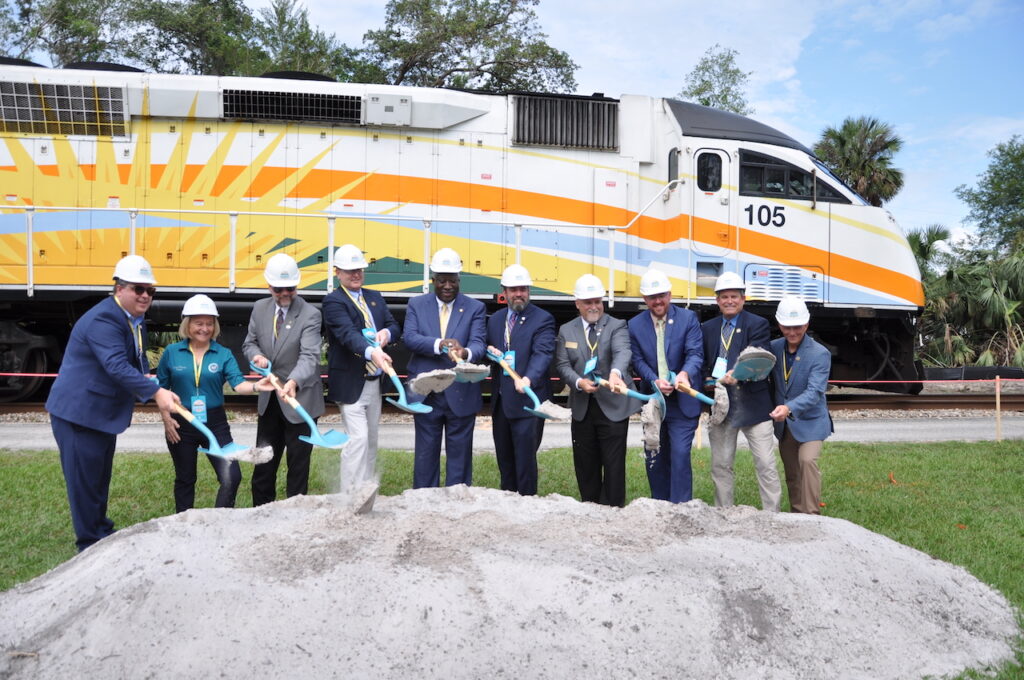 (Left to right) DeLand Commissioner Kevin Reid, DeBary Mayor Karen Chasez, Volusia County Chair Jeff Brower, FDOT District Five Secretary John Tyler, State Rep. Webster Barnaby, DeLand Mayor Chris Cloudman, Volusia County Council Member Matt Reinhart, FDOT Secretary Jared Perdue, FDOT District Five Director of Transportation Operations Mike Heffinger and Volusia County Council Member Jake Johansson
Speakers at the event were FDOT Secretary Jared W. Perdue, P.E.; FDOT District Five Secretary John E. Tyler, P.E.; Volusia County Chair Jeff Brower; and DeLand Mayor Chris Cloudman. Attendees took a special SunRail train from the DeBary SunRail Station to the site for the new DeLand SunRail Station for the event.
"Adding these 12.2 miles of track and a new station to the SunRail system will provide a new way for DeLand residents to commute to work and school and attract scores of Central Floridians to explore the shops, restaurants, arts, education, and attractions that make DeLand so special," said FDOT District Five Secretary John Tyler, P.E. "We are excited to welcome DeLand and the surrounding community to the SunRail family."
The new DeLand SunRail Station will be constructed adjacent to the Amtrak Station at 2491 Old New York Ave., DeLand, situated on the existing Central Florida Rail Corridor. SunRail service from DeLand is expected to begin in summer 2024.
The design for the new station will reflect DeLand's historic and natural beauty and feature a unique center platform. Rail enhancements for this project include 4 miles of double tracking for increased capacity. Preliminary work for rail crossings and signalization has started on the track.
In its ninth year of service, SunRail connects Volusia, Seminole, Orange and Osceola counties and the City of Orlando. The current system spans 49 miles and has 16 stations from DeBary to Poinciana. The new station will extend service from the DeBary Station up to DeLand.
With free station parking, onboard restrooms, comfortable work-station seating, and free WiFi, thousands of Central Floridians have embraced SunRail as a way to achieve a greater quality of life. SunRail is safe and convenient, with 36 trains traveling Monday through Friday.
More information about SunRail is available at SunRail.com.
Please remember to exercise caution around trains and railroad crossings by keeping off the tracks and obeying all signs and signals. Be smart. Be safe.