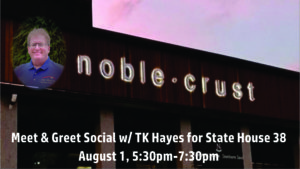 David TK Hayes, local Zephyrhills resident and businessman is running for Florida State Representative in District 38 in the general election, on November 6th, 2018.
TK is hosting a Meet the Candidate at Noble Crust at Wiregrass Mall. Pizza, appetizers, and an informal chat with the Candidate on the issues today
Drinks are on you. Happy hour is 5:30-6:30 so take advantage of inexpensive drinks, and microbrew favorites at this upscale locale.
Of course, we are fundraising as well. No obligation but a recommended donation of $10-$20 would be appreciated.
Join the Facebook page at www.facebook.com/tkforflorida and visit the website www.tkforflorida.com to see many policy positions.
Contact me anytime
David TK Hayes
[email protected]
813-598-6981 mobile