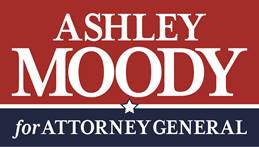 Leading Republican candidate for Attorney General Ashley Moody today announced the endorsement of the Florida Police Chiefs Association (FPCA) in the race to become Florida's next Attorney General. The FPCA is the third largest state police chiefs association in the United States and composed of more than 1,000 of the state's top law enforcement executives.
"As a former federal prosecutor and Circuit Court judge, Ashley Moody has shown dedication in bringing criminals to justice and upholding the law. She has the knowledge and experience our state needs to address complex public safety issues and has built strong relationships with police chiefs across Florida. The Florida Police Chiefs Association is proud to endorse Ashley Moody as our next Attorney General," said Amy Mercer, Executive Director of the Florida Police Chiefs Association.
"Law enforcement professionals need and deserve an Attorney General who has fought alongside them to put criminals behind bars and the experience to successfully help them accomplish their mission of keeping our communities safe. As Attorney General, I will work to ensure that those who put themselves in harm's way to protect us have the resources and support to do their jobs and protect their ranks," said Moody. "I am sincerely honored to have the support of the Florida Police Chiefs Association and look forward to our work together ensuring a stronger, safer Florida."
Ashley Moody continues to receive endorsements from conservative leaders, law enforcement (42 Republican Florida Sheriffs, Florida PBA, Florida FOP), 12 State Attorneys, elected officials, and those who believe Florida's next attorney general should be a strong supporter of Second Amendment rights and Florida's Stand Your Ground law. She also has the endorsement of current Attorney General Pam Bondi who stated, "I don't think there could be a more qualified candidate for attorney general in the entire state of Florida. I wholeheartedly support Ashley and I'm proud of her for wanting to sacrifice so much for our state."
About the Florida Police Chiefs Association
The Florida Police Chiefs Association (FPCA) is the third largest state police chiefs association in the nation and is composed of more than 1,000 of the state's top law enforcement executives. The FPCA serves municipal police departments, airport police, college and university and tribal police, private businesses and security firms, as well as federal, state and county law enforcement agencies. The FPCA has members representing every region of the state. Membership in the Florida Police Chiefs Association supports and maintains the highest standards of public safety and police protection for the millions of people who live, work and play in the State of Florida. For more information about membership and its benefits, please click here.
About Ashley Moody
Ashley Moody, a fifth-generation Floridian, was born and raised in Hillsborough County.  She attended the University of Florida where she earned her bachelors and master's degrees in accounting and juris doctor. She later attended Stetson University College of Law earning a Master of Law in International Law.
Ashley began her legal career with the law firm of Holland & Knight where she practiced commercial litigation. While at Holland & Knight, she was recognized as one of Tampa Bay's "40 under 40" distinguished lawyers for her professional and civic contributions. While in private practice, she volunteered to assist domestic violence victim's complete injunction petitions and served on a Victims of Crime Act Grant Review Committee.
Ashley subsequently joined the United States Attorney's Office prosecuting drug, firearm, and fraud offenses.  While a federal prosecutor, Ashley was commended by the DEA for prosecutorial excellence and outstanding initiative in drug law enforcement. She was also recognized by the Florida Department of Law Enforcement for her lead of "Operation Round-Up," a targeted prosecution of violent and repeat offenders.
In 2006, at the age of thirty-one, Ashley became the youngest judge in Florida when she was elected Circuit Court Judge of the Thirteenth Judicial Circuit in Hillsborough County.  As a judge, she founded the Attorney Ad Litem program recruiting volunteer attorneys to stand in the place of parents who did not appear in court with their children. She also developed a mentoring program for at-risk children within the juvenile delinquency system. Ashley previously served as the President of two American Inns of Court and Chairperson of both the Pro Bono and Professionalism Committees for Hillsborough County.
Ashley served as an adjunct professor at Stetson University College of Law and on the judicial faculty for Florida's New Judges College, Advanced Judicial Studies, and the Circuit Judges Conference. She is a frequent lecturer on crime and justice as well as best practices for Florida attorneys. In 2015, Judge Moody was recognized by the national Legal Services Corporation for her significant contributions to pro bono legal service and was awarded the Florida Supreme Court's Distinguished Judicial Service Award.
Ashley lives with her husband, Justin, a federal law enforcement agent, in Tampa, Florida with their two sons, Brandon and Connor. For additional information, please click here.