Governor-elect Ron DeSantis and Lt. Governor Jeanette Nuñez today held an appreciation event honoring veterans, military members, first responders and Gold Star families at A Call to Action: Honoring Service, Sacrifice and Country. Attendees came together as they paid tribute to the heroes who selflessly protect our state and nation.
Incoming First Lady Casey DeSantis, Attorney General-elect Ashley Moody, Chief Financial Officer Jimmy Patronis and Agriculture Commissioner-elect Nikki Fried also spoke at the event and thanked the families and heroes in attendance.
"As a veteran, my family and I understand the great sacrifice of those who serve our state and country both at home and abroad," said Governor-elect DeSantis. "Today's event was an opportunity to show our gratitude for the dedication of our military and Florida's first responders."
The event also featured patriotic performances to thank the families, veterans, military personnel and officers in attendance for their service to our state and nation. Performers included:
Lee Greenwood (God Bless the USA): Lee Greenwood is an ICON in country music. His song, "God Bless the USA" has been voted the most recognizable patriotic song in America.
 Chip Shields (National Anthem): A former Marine who now serves as a Firefighter/Engineer for the Hillsborough County Fire Department.
The 13th Army Band: The 13th Army Band has a lineage dating back to 1930, when it was organized as the band section of the 265th Coast Artillery in Miami.
One Night Rodeo (Band): With over 3,000 performances in their career this seasoned and entertaining duo is launching into Country music stardom.
Ethan Folkman: Bagpiper in Bagpipes for Veterans; Folkman plays the bagpipes to honor the veterans in the Tampa Bay area.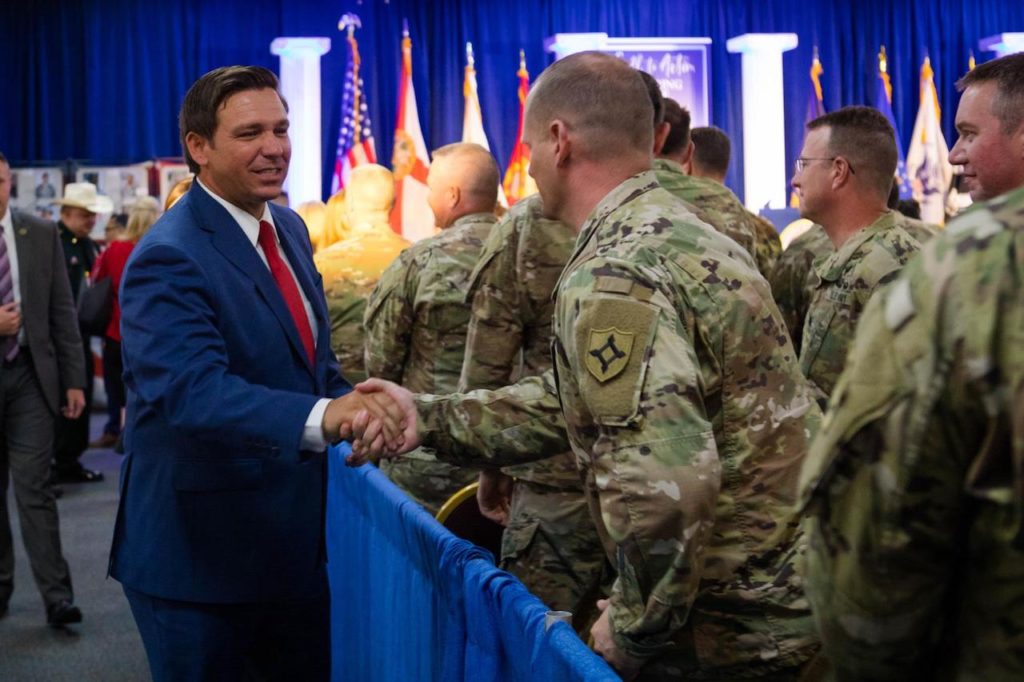 PAID FOR BY THE REPUBLICAN PARTY OF FLORIDA.
NOT AUTHORIZED BY ANY CANDIDATE OR CANDIDATE'S COMMITTEE.