In his continued efforts to ensure Floridians understand the impacts of assignment of benefits (AOB) abuse, Commissioner David Altmaier has debunked the top five myths and most common AOB-related misunderstandings.
An AOB allows a restoration vendor to "stand in the shoes" of a consumer who has experienced home damage by granting consumers the right to sign over their insurance benefits to the vendor, who files claims for work performed. The AOB also allows the vendor to seek direct payment from the insurance company and if litigation is pursued, vendors can also demand payment of attorney's fees.
Commissioner Altmaier stated:
"When used appropriately, an AOB is a great tool for consumers and should remain accessible to all policyholders. However, it is imperative homeowners review and understand the documents they are asked to sign following a loss or damage to their property as AOB abuse continues to negatively impact consumers, their insurance rates, and markets across Florida. Across the state, AOB agreements are being used by bad actors as a vehicle to exploit Florida's unique attorney fees statute to fill their coffers with additional profits at the expense of every homeowner in our state. Absent a legislative solution, AOB abuse will severely hamper Floridians' ability to recover from future storms."
Myth: Signing an AOB agreement is a risk-free way to recover from a storm or loss.
Reality: There are risks associated with signing an AOB. In some cases, you may be a party in a lawsuit or responsible for payment of additional costs. A lien may also be placed on your home if you fail to pay.
Myth: Signing an AOB is my only option when recovering from a loss.
Reality: Signing an AOB is not your only option. You should immediately contact your insurance company or agent following a loss to discuss your options and if signing an AOB is your best course of action.
Myth: If I sign an AOB and decide I want to cancel the agreement, I can always back out and regain the rights to my insurance benefits.
Reality: A properly executed AOB is a binding contract, and the consumer cannot cancel on their own. Unless the assignee agrees to cancel, the consumer will have to file a lawsuit to regain control over the insurance benefits in court.
Myth: Signing an AOB is the fastest way for me to recover from a loss.
Reality: When used appropriately, an AOB agreement can be a great tool when recovering from a loss. However, some homeowners who have signed an AOB have been left on the hook with unfinished repairs and additional out of pocket expenses, further exacerbating their recovery.
Myth: Restoration specialists are pressuring me to sign an AOB because they want to help me get back on my feet as soon as possible.
Reality: Most licensed restoration vendors truly want to help their clients recover as fast as possible. However, there are bad actors who use AOB agreements as a way to obtain your insurance benefits, inflate claims, and partner with attorneys to sue insurance companies to force them to pay the claim. These instances, and the unnecessary litigation associated with them, will result in rising insurance rates for policyholders.
For more information about this issue, visit the Office of Insurance Regulation's (OIR) "Assignment of Benefits Resources" webpage.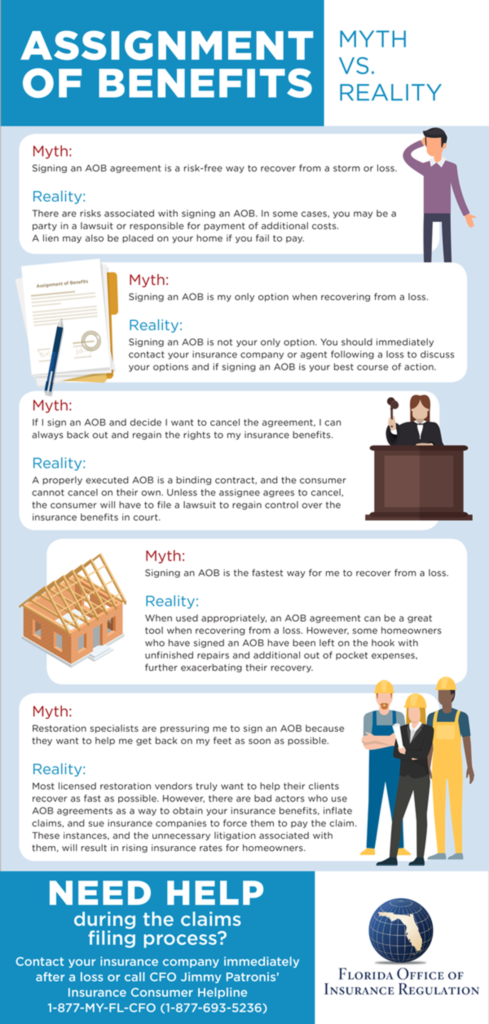 About the Florida Office of Insurance Regulation
The Florida Office of Insurance Regulation has primary responsibility for regulation, compliance and enforcement of statutes related to the business of insurance and the monitoring of industry markets. For more information about OIR, please visit our website or follow us on Twitter @FLOIR_comm and Facebook.