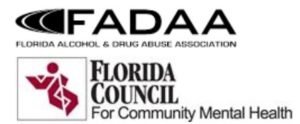 Programs through DCF and OSCA focus on alcohol and opioid recovery
According to an FDLE medical examiner's report, there were 6,178 opioid related deaths in Florida in 2017— 453 more deaths than the previous year. Keeping effective drug treatment options and programs intact are necessary to address the state's persistent opioid epidemic.
The Florida Alcohol and Drug Abuse Association (FADAA) has released data that demonstrates the effectiveness of medication-assisted treatment (MAT) programs, specifically extended release injectable Naltrexone, which is used to treat both alcohol and opioid dependent individuals.  The program is administered by FADAA for the Office of State Courts Administrator (OSCA) and the Department of Children and Families (DCF).
"Our state is facing a serious opioid epidemic that has touched nearly every county and scores of families. In Florida, we lose 17 lives a day to opioid use disorder," said Melanie Brown-Woofter, President and CEO of the newly merged Florida Council for Community Mental Health and FADAA. "Medication-Assisted Treatment is a critical tool in the state's efforts to help move individuals out of addiction and into recovery."
Extended release injectable Naltrexone is one of three nationally recommended medications used to treat substance use disorders. Extended release Naltrexone is a once-monthly injectable non-addictive, non-narcotic medication proven to help prevent those suffering from substance use disorders from relapsing.  The medication works by binding to opioid receptors in the brain and blocking the effects of opioid compounds. The medication also helps reduce cravings.  This, in combination with counseling, gives individuals with substance use disorders a chance at recovery.
Florida's MAT programs have been able to assist more than 58 communities from Pensacola to Key West in delivering a monthly injection to patients in participating programs. To date, over 6,400 people have received the once-a-month shot and over 22,000 injections have been administered in Florida. According to the data, programs administered by DCF saw a nearly 75% success rate and programs administered by OSCA saw a nearly 73% success rate.
Extended release injectable Naltrexone is also administered through 19 jail-based programs across the state to help inmates overcome their substance use disorders and transition to life after incarceration.
Senate and House members have continued to express their commitment to fighting addiction in Florida by funding these very important programs that save lives.
In Fiscal Year 2017-2018, both the DCF and OSCA programs used 100% of available funding, although there continues to be a wait list for these programs. In the current Fiscal Year, the programs are on pace again to use 100% of available funding.
The commitment to address the opioid epidemic extends beyond the Florida Legislature. Earlier this week Gov. Ron DeSantis issued an Executive Order reestablishing the Office of Drug Control and creating the Statewide Task Force on Opioid Abuse, which will be chaired by Attorney General Ashley Moody.
"We applaud Governor DeSantis and Attorney General Moody for leading this mission. Our members are committed to supporting these efforts and working with the Governor and Attorney General in developing a statewide strategy to fight the opioid epidemic," added Brown-Woofter.
For data and more information about drug treatment programs, please visit fadaa.org.
About the Florida Alcohol and Drug Abuse Association
The Florida Alcohol and Drug Abuse Association (FADAA) is a non-profit organization whose purpose is to solicit and administer grants, contracts, and other activities that support workforce development, address public education on behavioral health issues, provide training and technical assistance, and other activities that support mental health and substance use disorder prevention, treatment, and recovery initiatives.
About the Florida Council for Community Mental Health
For more than five decades, the Florida Council for Community Mental Health, Inc. has actively served Florida's community mental health and substance abuse services agencies by advocating for funding, policy and legislation to ensure that all Floridians have access to comprehensive, high quality behavioral health care services. The Council's member agencies include a broad range of provider types, ranging from small specialty organizations to comprehensive treatment organizations with multiple locations within a geographic region.