Florida A&M University (FAMU) experienced one of its largest-ever Fall Previews as more than 1,200 students from across the state and Georgia converged on campus last weekend.
The event also featured a visit from the Denny's Hungry for Education HBCU Tour and Tom Joyner, of the Tom Joyner Foundation, which has donated more than $66 million in scholarships over the past two decades.
"FAMU's culture and educational focus not only prepares students for the contemporary job market but it also instills an entrepreneurial mindset. When a student graduates from FAMU their degree will matter," said FAMU President Larry Robinson, Ph.D., who has allocated $3.5 million for scholarships.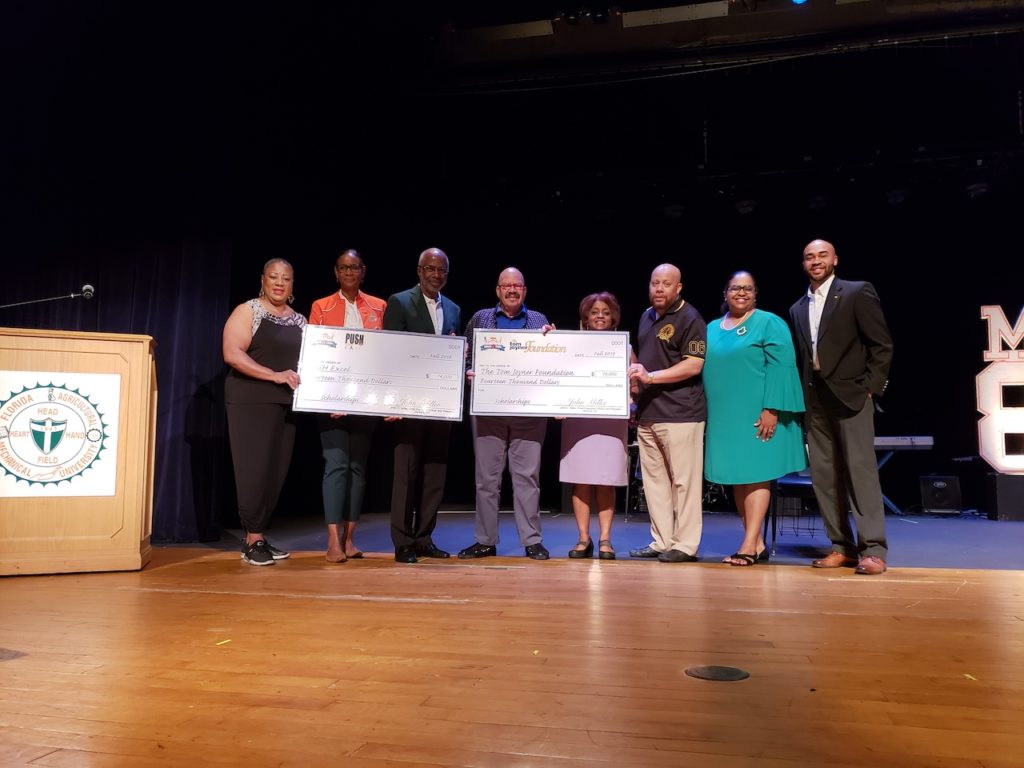 President Larry Robinson, Ph.D., (third from left) and Tom Joyner, of the Tom
Joyner Morning Show (fourth from left)  join representatives of Denny's, the
National Council of Negro Women, PUSH Excel and others as the Denny's Hungry
for Education HBCU Tour stopped at FAMU on Saturday, Sept. 14
FAMU is one of seven historically black colleges and universities (HBCU) on the tour. During the FAMU stop Saturday, Joyner and representatives from Denny's, the National Council of Negro Women and PUSH Excel provided $500 to four high school students and four college students, totaling $4,000 in scholarships.
"At Denny's, we have found that supporting HBCUs is an incredibly effective way to invest in the diverse communities we serve," said April Kelly-Drummond, head of Diversity Equality Inclusion & Multicultural Engagement. "HBCUs make up only 3 percent of the colleges and universities in the United States, yet they produce 23 percent of African-American college graduates."
William Hudson, Jr., vice president for Student Affairs, said 1,273 students and more than 600 chaperones and family members registered for Fall Preview.
"This is the largest Fall Preview registration we've had," Hudson said. "FAMU is hot right now with all the great things that are happening on campus."
According to the 2020 U.S. News & World Report Best Colleges list of Top Public Schools, FAMU placed higher than any other public HBCU among national universities. FAMU placed sixth, (No. 123) among the State University System's (SUS) 12 public universities. Eight SUS universities placed in the Top 140 list of national public universities.
FAMU also ranked 45th in the Social Mobility rankings – which reflect the number of Pell grant recipients who earn degrees and go on to make more than their family parents.
As part of the Fall Preview, students and their parents toured the campus while in the Grand Ballroom others visited tables set up by the University's schools and colleges to introduce prospective students to the programs offered by FAMU.
The strong showing at Fall Preview comes on the heels of a strong recruitment year for the University. More than 11,500 undergraduate and graduate students applied for admission to FAMU in fall 2019. However, Hudson said competition is stiff and he encouraged the students to take test prep courses to help boost their ACT and SAT scores. Students seeking merit-based scholarships must be admitted to the University by Nov. 1.