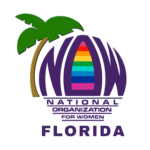 Leaders for the organization pledge to do "whatever it
takes" to ensure Floridians' reproductive rights.
Faced with the introduction of a statewide abortion ban bill (H.B. 5) by Florida Representative Grail (R-Vero Beach), Florida NOW President Debbie Deland stated, "Several issues make this bill unconscionable. [Read more…] about Florida National Organization for Women (NOW) announces a forceful statewide campaign to protect reproductive health and rights.